The sustainable alternative
Alternative energy to traditional fuel for professional transport
Our natural gas network has more than 150 stations in 6 European countries supplying a more environmentally friendly fuel. 
In 2018, we opted for liquefied natural gas (LNG) and compressed natural gas (CNG) as an alternative energy to traditional fuel for professional transport, another milestone that consolidates our commitment to the environment. In fact, we at OnTurtle were committed to change even before natural gas began to be considered as the most sustainable option for freight transportation, once again leading the transition that will mark the future.
If we take into account that natural gas use not only reduces costs, but also greatly reduces polluting emissions, we can understand why the number of registered vehicles using LNG in the domestic sector has grown by 33% over 2021 alone.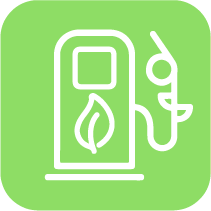 Get in touch with OnTurtle
We are at your disposal to expand any information you need or answer your questions and doubts. Message us!